Recent Changes to the Laws of Cricket Bat
There is no doubt that Cricket has always been a batsman's game and probably it will be because of the sky-high popularity of Twenty20 matches, new rules and regulations like power play, changing the ball during a match etc. are always in favor of the batsman. Moreover, it is also believed that modern technology used to make Cricket bats has made it a little bit easier for the batsman to hit boundaries and over boundaries. But everything has a limit and Marylebone Cricket Club (MCC) is the lawmaker of Cricket. They decided that no performance-increasing bat is allowed in Cricket for the betterment of the game. It has to be a traditional normal bat, which cannot be something like a magic bat because they believe that in the long run, it will decrease the popularity of Cricket. So, they made some rules and regulations which must be followed by the manufacturers of Cricket bat. Before starting their rules and regulations, let's look back at some controversies against the cricket bat.
All English Willow Cricket Bats sold on our website conform to MCC laws and specifications.

Fireworks Grade C English Willow Bat

Light Speed Cricket Bat

Revolution Grade A English Willow Bat

Stealth Grade A Bat
The first major controversy regarding the Cricket bat raised back in 1979 when Dennis Lillie attempted to use an aluminum bat. It was instantly taken from the field as it damaged the ball severely. Then in 2005, former Australian skipper and current senior player of the Australian Cricket Team Ricky Ponting attempted to use a graphite-covered wood bat and it was also banned.

And not very long ago in the Indian Premier League (IPL) 2010, we saw former Australian Opener Matthew Hayden playing with a new kind of Cricket bat known as "Mongoose." In fact, he was the brand ambassador of the "Mongoose." At first look, many people might think that it does not follow the rules and regulations, but it does follow the rules of the MCC. To be exact, this bat has a 33% shorter blade and 43% larger handle than the traditional bat. It was made exclusively for Twenty20 cricket. But unfortunately, Hayden could not perform well probably because of this retirement from the international level and the bat lost his potential to be a benchmark of a new bat for Twenty20 cricket. Another big reason is that almost all big hard hitters were not interested in "Mongoose." Experts say that it is good for a low bounce but not suitable for bouncy pitches. You may have an advantage playing horizontal shots but it could be difficult to play good length bowls and cut shots with this exaggerated "Mongoose".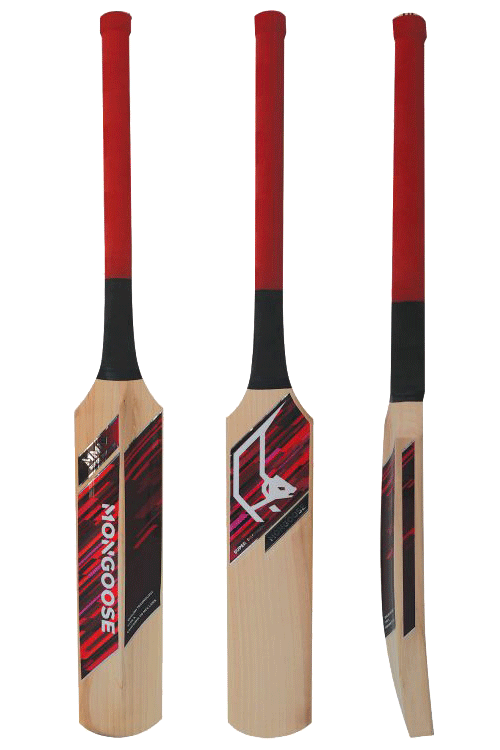 Mongoose-Cricket-Bat
The final version of the MCC law was published in 2008 and it is being strictly followed from October 1, 2008, all over the world. Their latest rules and regulations about the Cricket bat are described below.
New law
The one and only purpose of the new law is to make sure that the Cricketers do not get any extra benefit from the bat. It is a bat, not a magic bat. For the first time, MCC introduced a grading system for the bats. There are 3 grades and they are Grade A, Grade B and Grade C. The National Governing Bodies are the decider to choose which grade should be used in which level of Cricket.
The grading process
Undoubtedly, if MCC tried to check each and every bat in the world it would be a mammoth task for them. That is why they decided that the manufacturer would certify the grade of the bat by using a sticker or brand on the back or shoulders of the blade or on the top of the handle. But one important thing is that there should not be any MCC monogram on the bat.


Bat Characteristics
| | | | |
| --- | --- | --- | --- |
| Factors | Grade A | Grade B | Grade C |
| 10% or less materials other than traditional materials like cane, wood and twine in the handle | yes | yes | yes |
| More than 10% but not more than 20% materials other than traditional materials in the handle | no | no | yes |
| More than 20% materials other than traditional materials in the handle | no | no | no |
| Anti-Scuff fitted (must not damage the ball significantly) | yes | yes | yes |
| Cloth for covering the blade | no | no | yes |
| Non-solid material (e.g. varnish) to improve resistance to moisture and natural decay | yes | yes | yes |
| Toe insert | no | yes | yes |
| Side inserts | no | yes | yes |
Materials in the handle
Even blocking a fast bowl creates a lot of vibration in the handle. That is why to minimize the vibration some materials like rubber "springs" can be used but it cannot be more than 10% of the handle for Grade A and Grade B. Cane, wood and/or twine are the rest of the materials. For Grade C it can be increased up to 20%. The lower part of the handle cannot be more than 3.25 in/8.26cm and it must be made of cane, wood, or twine.
Anti-scuff
The anti-scuff cannot be more than 0.04 in/1 mm in thickness.
Blade covering
There cannot be any covering for Grade A and Grade B. For Grade C the covering must be limited to 0.012 in/0.3 mm.
Non-solid materials
To improve the moisture resistance and keep the blade of the bat as good as possible from natural decay varnish or similar products can be used, but they cannot be used to increase the performance. Another important thing is that for Grade A and Grade B bats this treatment must not change the color of the blade but for Grade C significant change in color is allowed.
Toe insert
Toe insert can be used for Grade B and Grade C but for Grade A it may not be used. But it cannot be more than 2.5 in/6.35 cm up the blade at any point.
Side insert
Like toe insert Grade A bats may not have side inserts but Grade B and Grade C bats may have side inserts. It cannot be more than 1 in/2.54 cm across the blade at any point.
Adhesives
It should be used as little as possible and should only be used where it is essential.
Binding and covering of the handle
The binding cannot be more than 2.5 in/6.35 cm and the grip cannot be more than 2.75 in/6.99 cm. Electrical or similar tape can be used to keep the grip more stable.
Length and width of the bat
It remains unchanged like before. The length cannot be not more than 38 in/96.5 cm and the width cannot be more than 4.25 in/10.8 cm, but for size 6 or less it is different, the length from the top of the handle to the bottom of the spice cannot be more than 52% of the bat.
Commercial identifications
It cannot be more than 0.08 in/0.2 mm in thickness. If it is on the face of the blade it must be within the top 9 in/22.86 cm from the bottom of the grip and if it is on the back of the blade it cannot be more than 50% of the total surface.
When a manufacturer fails to grade properly
If any manufacturer fails to grade a bat properly, then at first MCC gives them a written warning. If it continues, then MCC can ban the manufacturer.
Rule for the ungraded bat available in the shops
But there were a lot of bats which were available in the shop before introducing this rule. Retailers could sell them without any grading. But MCC also gave the retailers the freedom to grade the bat. They thought it would make them more updated. But who wanted to grade the bat had to contact their manufacturers and the manufacturers were advised to keep all the records.
It seems MCC is very serious about Cricket. In fact, they should be because Cricket is now a very popular game and it is getting popular day by day. Probably Cricket is now at its peak. As long as no side either batsman or bowler gets an absurd advantage their decision is right and it should be respected and followed by all. Good luck Cricket!