Cricket is a game of bat and cork ball. This hard, round-shaped ball made unforgettable players like the king of swing Wasim Akram, pinpoint accurate Glenn McGrath, spin wizard Muttiah Muralitharan, speed star Shoaib Akhtar, white lightning Alan Donald, Charismatic Kapil Dev, Sir Richard Hadlee, Curtley Ambrose, mysterious Shane Warne and many legendary bowlers who took the sleep of the many world-class batsmen all over the world before the match. It is the cricket ball that swings, gives reverse swings, bounces, turns, hurts the players and finally takes a wicket or gives runs.
In fact, one of the easiest ways to differentiate a professional player and an amateur player is by the ball he uses. If he plays Cricket as a hobby, then he is supposed to use a normal tennis ball with tape wound all over it, or even only a tennis ball. But, a professional player never uses a normal ball even when he practices. But it is not a rule, it is an assumption.
Cricket is a very old game, and the history of Cricket ball also started a long time ago. To be exact, officially it started on

15 March 1877

. Many years have passed after the inception of the first ball. We saw many revolutionary technologies all over the world but the cricket ball is still handcrafted! Huge numbers of cricket balls are being made all over the world, but all of them are hand-crafted.
Cricket balls are extremely hard. In fact, for its hardness batsmen, wicket keepers and sometimes even close range fielders have to use protective equipment. Many terrible injuries even death occurred by a Cricket ball. Its weight is

155.9-163.0 grams

and circumference is

8 13/16-9 inches

. But, women and young cricketers use little bit smaller cricket balls.
Watch the video to learn how cricket balls are manufactured. Thanks to Kookaburra Cricket Australia for creating such a useful resource.
In order to make a cricket ball, at first small pieces of corks are gathered. Cork is an elastic material and it is used to provide bounce on the surface. Then the pieces are wound tightly with string and then it is covered by leather. On the surface of the leather, the vital SEAM is sewn. It gives the bowlers the most desirable swing. It also helps the spin bowlers to grip the ball well and becomes the master of spin
Which is the best Cricket ball?

To get the answer to the question, manufacturers have been researching even today because the latest rule to use a Cricket ball introduced in October 2011. This date is not an old date indeed. Currently, International Cricket has 3 formats:

Test Cricket, One Day International (ODI) and Twenty20 (T20)

. To pick the best ball the format must be considered because each format has a different duration and obviously, the performance and the stability of a ball depends on the duration of use. At present, red balls and white balls are being used, but pink balls, yellow balls, and orange balls were also used to give the best output, but they failed to provide the best-balanced performance considering visibility, stability, swing, and many vital factors.
Cricket started off with the red balls on

15th March in 1877

when the first Test match was played. Even today red balls are being used all over the world in Test matches for their stability. It does not get damaged like other balls, but the manufacturers always claim that the construction of white balls and red balls are the same the only difference is their color nothing else at all. But, a 5 days long Test match is not played only with one red ball. It is not that good. According to the rule of Cricket, after the

80th over

the old red ball can be changed if the skipper of the fielding side wants to take a new ball and gives it to his fast bowlers to attack more aggressively.
Then came the brainchild of

Kerry Packe

r--the one-day cricket. White balls are being used in one-day cricket since

1971

. One of the major reasons to use white balls in one-day cricket is that sometimes ODI matches take place at night which is why it is essential to use the ball which has more visibility at night than any other cricket ball. It is proved that white balls are more visible than any color at night so it is considered the best ball for the ODI format. Another feature of white balls is that they give more movement in the early segment of an inning. But they are not perfect. One of the major disadvantages of white cricket balls is that they get dirty too quickly. We saw numerous times changing the white balls during one day match. Even in the 1992 and 1996 World Cup, we saw using two white balls to give the batsman the opportunity to see the ball clearly. To solve this problem the latest rule of using a white ball in a one-day match is that 2 white cricket balls to be used in an inning from 2 ends. This looks like a good decision.
Twenty20

is very short so usually, there is no need to use 2 white balls at a time. Only one ball is used in an inning and it is enough.
After color, it is now time to discuss the brand of the cricket balls for international clashes. For all ODI matches world famous Kookaburra balls are being used by all international teams unanimously, but there is a slight difference when it comes to Test cricket. Except for India and England, all teams use Kookaburra ball. When India plays at their home they use

SG cricket balls

and when England hosts Test matches, they use

Duke cricket balls

.
Memorable deliveries

Let's see what bowlers are doing with the red and white cricket balls. It is the 21st century and everybody is extremely busy with their lives. We tend to forget everything very quickly, but some deliveries of the iconic bowlers are evergreen. To be honest, we cannot forget them even we want to.
Nobody can forget the breaking of the

100 m/ph barriers (161.3km/h)

by Shoaib Akhtar; his unplayable delivery to the master blaster Sachin Tendulkar which knocked out his stumps; the spin of Shane Warne which drifted from the leg side to the offside dramatically; the last wicket-taking bowl of the highest wicket-taker of the Test wicket Muttiah Muralitharan in his last test match. Last but not least it will not be an exaggeration if I say every bowl of Lasith Malinga is a memorable ball, a special bowl. In fact, his unprecedented underarm action added spice and thrill to Cricket. Certainly, he is the only one of his kind in the world.
Special ball!

It is probably one of its kind. It is a

Diamond Cricket Ball

which was made in Sri Lanka in 2004. Its weight is 53.83 carats and the seam is made with 125 grams of pure gold. Undoubtedly, if you give it to any bowler, he will not go to a bowl with this one.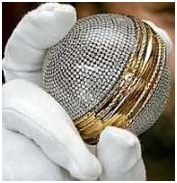 Conclusion
Undoubtedly, Cricket balls are an integral part of Cricket. They have been bearing the history of Cricket for many years. We saw many extraordinary deliveries changing the results of many matches dramatically. Cricket balls also changed the fate of many young people. The significance of the Cricket ball will remain as bright as a

BRAND NEW RED BALL

as long as Cricket lives.