Gray-Nicolls was formed in the 1940's by the merger of two well known cricket bat manufacturers H.J.Gray and Sons, and L.J. Nicolls. At this time the company also acquired the famous brands of Shaw and Shrewsbury and Wainwrights. England captain Wally Hammond and Australian star Keith Miller used Gray-Nicolls.

The brand went from strength to strength in the 1950's and 60's and at one stage the captains of all 5 test playing countries (Ted Dexter, Richie Benaud, Frank Worrell, John Reid, Trevor Goddard) all used Gray-Nicolls. Major innovations included the revolutionary "Steel Spring" and the first shoulder less "Superlite" bat.

In the 1970's Gray-Nicolls were the first to introduce colored labels. Top Cricketers using the trend-setting Gray-Nicolls red flash included the Chappell brothers, Clive Lloyd, Tony Greig and Barry Richards. In 1974 the company broke new ground with the introduction of the revolutionary scoop bat. A new Gray-Nicolls factory was opened in Melbourne to supply the growing demand from the Australian and New Zealand markets.

Expansion in the 1980's and 1990's meant Gray-Nicolls had to move to larger premises in Robertsbridge. New innovations included the Dynadrive, Sabre and Millennium bats. Famous names such as David Gower, Robin Smith, David Boon, Javed Miandad, Sunil Gavaskar and Jeff Dujon used Gray-Nicolls and Brian Lara scored the highest ever first class (501) innings with the Scoop 2000.

The new Millennium saw the introduction our unique Carbon & Titanium handles. Successive England Captain's Michael Atherton & Nasser Hussain proudly used Gray-Nicolls throughout their careers. More runs were scored with Gray-Nicolls bats than any other brand in the 2003 World Cup. Andrew Strauss, Matt Hayden, Mohammed Yousaf, Ram Sarwan and Daniel Vettori are all set to represent Gray-Nicolls into the future.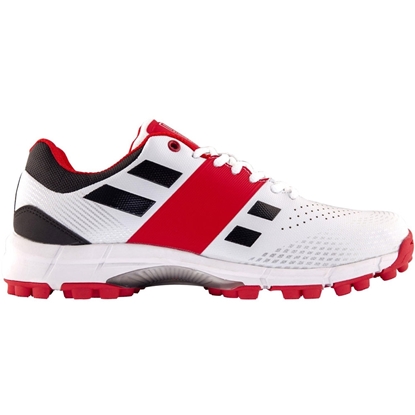 Cricket Shoes GN Velocity 2.0 Rubber Sole Colour Red White by Gray Nicolls re-developed the Velocity 2.0 shoe, making it the ideal entry-level cricket boot for playing on grass. Now Gray Nicolls introduce the GN Velocity 2.0 rubber all the performance of the Velocity 2.0 but with rubber indoor friendly soles. All the great features of the GN Velocity 2.0 remain. The Powerband is still in place to offer lightweight support and fantastic stability throughout the shoe. The torsional midfoot system remains, giving flexibility in the front of the foot and support in the midsole. Finally, Gray Nicolls continue to deliver the high-grade PU upper giving fantastic ventilation thanks to its lightweight honeycomb design. So, when it comes to winter nets, there is only one cricket shoe that promises match like performance for a training landscape the GN Velocity 2.0 Rubber. We can't wait to see your success wearing them.