Cricket Equipment USA was formed in Atlanta, Georgia USA by Gohar Siddiqi in 2008. It is an expansion of the Sporting Goods business which was originally started in 1999 under the company Best Soccer Buys Sporting Goods, Inc.

Best Soccer Buys Sporting Goods, Inc. has been in business for nearly ten years and is offering an incredible selection of custom-made sporting goods for a variety of applications. In the years that Best Soccer Buys has been in business, hundreds of thousands of sports balls of the highest quality have been created for soccer clubs, as well as for promotional and advertising purposes.
Cricket Equipment USA which is relatively new has the same owner and management staff that has transformed Bestsoccerbuys.com into a successful and reputable online business.
Our Mission:
Sustained perseverance for innovation and excellence forms the core of our business philosophy.
We understand that for millions of its fans, the game of cricket is not just a sport; it's a passion and a religion for them. Millions of cricket lovers ardently and passionately follow the game.

Cricket is fast gaining in popularity and the demand for specialized cricket equipment is growing by leaps and bounds.

Cricket Equipment USA, already among the leading online sports firms in the world, wants to be the best. We are continuously striving to develop and distribute our top-quality range of cricketing gear at highly competitive prices to our customers in the United States of America.
B2B expertise and business model

Effective business model
Cricket Equipment USA directly deals with manufacturers & top brands to supply products to our target audiences. Our chosen brands and manufacturers are devoted to quality and providing high-quality services to our clients.

Harnessing the power of the Internet
We have expertise in business-to-business e-commerce, enabling merchants to select sports goods by leveraging the reach and power of the internet.

Cost-cutting
The efficient usage of web-enabled platforms cuts costs drastically.

Assured product quality
We are striving to form close professional relationships with the producers of high-quality cricketing goods. Our tie-up with Ihsan Sports, SS Sunridges & MB Malik is a testimony to this. When you buy our products online, or through direct sales, you can rest assured that you will receive the best equipment at the most attractive prices. All our cricket equipment and gear are sourced directly from reputed suppliers like Kookaburra, MB Malik, SS Sunridges, and Ihsan Sports. The cricket equipment is endorsed by established international players, speaking volumes about their quality. We represent leading manufacturers and serve on their behalf to market their equipment.

Excellent business and marketing opportunity
Our current cricketing gear portfolio (Cricket bats, pads, balls, batting & keeping gloves, thigh & chest guards, cricket bags, cricket uniforms, wickets & stumps) provide an excellent business opportunity for individuals and companies interested in marketing and selling cricket and other sports-related items on the planet.
Cricket Brands
Field Hockey Brands

Partner Sites
Best Soccer Buys Sporting Goods, Inc.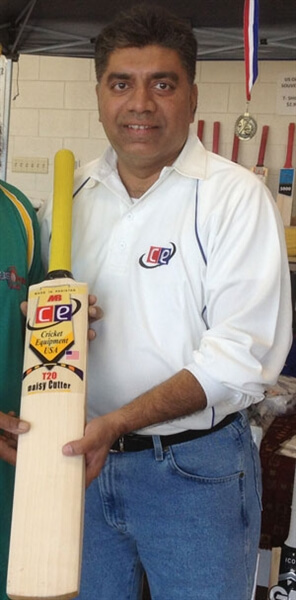 Gohar Siddiqi - President
Cricket Equipment USA
Best Soccer Buys Sporting Goods, Inc.